BALO was Viking Rail Operator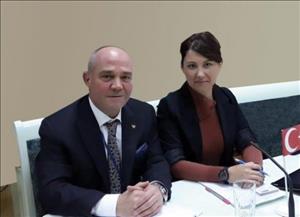 BALO was officially Viking Train Operator at the annual meeting of the Viking Train Operator.
Lithuania, Ukraine and Belarus railways, discharge firms and such as Klaipeda, İlliçivsk, Odessa,sea ports as a joint project, starting from the Ukrainian port of Odessa, passingthe Belarus , the Lithuanian port of Klaipeda on the Baltic Sea reached Viking Rail's flights began in 2003. A new route will start in August 2014, collected loads by railway from Anatolia and will be delivered  to Tekirdag, BALO container block trains wiil arrive to Bulgaria, Romania, Ukraine, Belarus and Lithuania.
04/12/2013